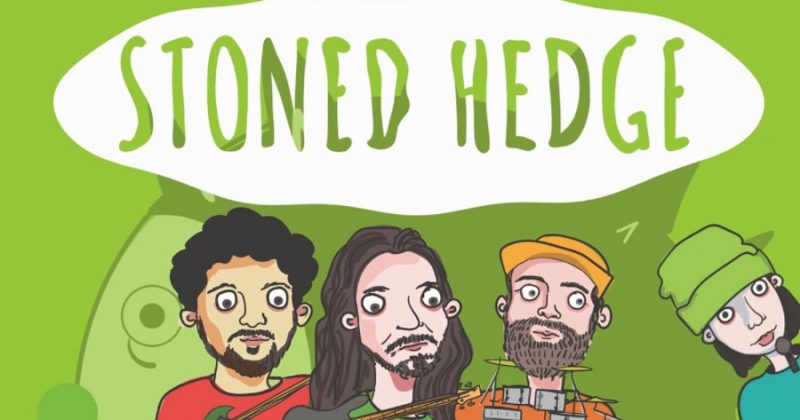 May 28, 2021
"HELLO WORLD" – Debut album of STONED HEDGE is available on every digital music platform!
Stoned Hedge are formed in 2018. At the beginnings, they are playing covers all throughout Macedonia, before August 2020 when they started creating their own music. The band is consisted of 4 members: Angela Marinkovska – vocal, Ismail Kamberi – guitar, Dejan Tomovski – bass guitar and Marko Stojchevski – drums.
The album, called "Hello World", consists of 8 songs that can be defined in the frames of alternative rock, sounding so mature, like they are composed from more experienced band. The songs are prepared in just four months, and recorded and produced by Deni Krstev (Bernays Propaganda, My Tear, 21 Vek) in Studio 1060.
"What these young people did in this short period of time is really worthy of admiration. They composed big and unbelievably melodic songs which you'll remember easily with their honesty and will take you into the world and the battle of the young, beautiful and honest. It is a battle with strong and invisible opponent, but Stoned Hedge are doing it in style, like experienced fighters with unbelievable ease and showed us all that you can look and sound worldly with just talent and pure heart. Yes, ladies and gentlemen…, you're in for a world class music in the trace of Guano Apes and Portishead. In their songs you can find beautiful and unexpected things like wonderful melancholic vocals, magical and unobtrusive guitars, dreamy and suggestive bass sections, gentle and shuttering drums… and honest words!!! They created a lovely world and from existing only in their hearts and heads, they let us in to be a part of their magic… So, relax and enjoy the beautiful melodies of the smiling hedgehogs." – Vasko Atanasoski (Bernays Propaganda, 21 Vek).
Starting from today, HELLO WORLD is available on the digital music platforms – Spotify, Apple Music, Amazon Music, Deezer, Tidal, YouTube, Bandcamp.
Stoned Hedge - One, Two, Three