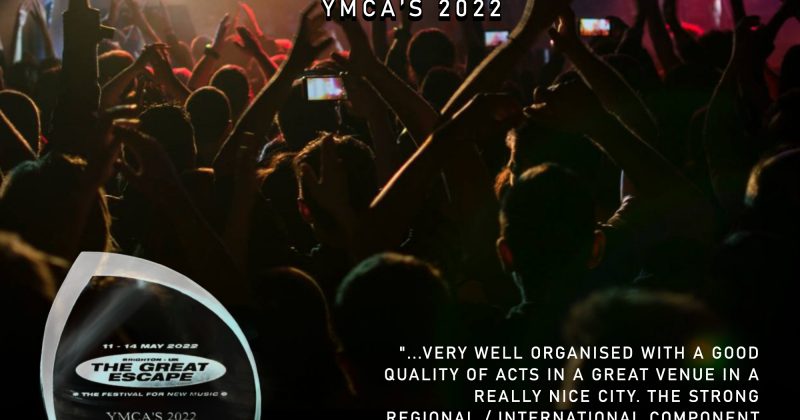 October 20, 2022
The renowned English festival "The Great Escape" has declared our PIN conference the Best New Event
The Macedonian PIN Music Conference & Showcase has been adorned with a meaningful prize in England, awarded by the leading European festival for new music "The Great Escape". With this huge recognition, we are honored to announce that PIN conference is the current winner in the category for "Best New Event" at the Yearly Music Convention Awards (YMCA) which were presented at the famous "Great Escape" in Brighton. "PIN is a very well-organized event with a good quality of acts in a great venue in a really nice city. The strong regional/international component at PIN is also a major plus", stated on this occasion Martin Elbourne, the creative director and co-founder of "The Great Escape", who had been one of the delegates at previous editions of the conference.
Given this title, the new edition of PIN becomes a celebratory edition and will be held from the 24th until the 26th of November at the Youth Cultural Center in Skopje.
PIN is the first and still the only international music conference in Macedonia which began to write its story in 2012 and, as a regular part of the TAKSIRAT festival programme, grew into the most significant event on the Balkan region of its kind and now it's officially recognized by the leading stakeholders of the European music industry. The concept of this event includes an exceptionally rich three-day programme that's divided in daily panel-programmes (conferences) and evening music programmes (showcase). With this kind of concept, in one place PIN unites all the stakeholders, professionals and music/music industry lovers, experts, artists, performers, journalists, cultural actors, promoters, managers, agents…
The programme for PIN 2022 and the list of this year's participants are already announced, with more than 30 music performers from all around Europe expected to perform in the showcase concert programme, as well as more than 200 delegates from the music industry with whom, in the panels, we will share experiences and deepen the knowledge for current, innovative and influential subjects in the music industry.
The attendance for PIN's concerts is FREE for all visitors and as for the daily panel-discussions, previous announcement/registration of your attendance will be needed through the following link: https://pinconference.mk/register-for-conference/
This year's edition of the PIN music conference is organized with the support of The Hub for the Exchange of Music Innovation (HEMI), a project co-financed by the Creative Europe Programme of the European Union.