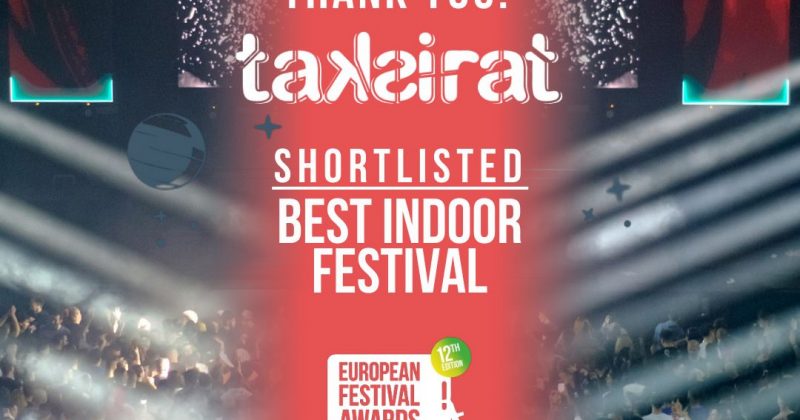 December 20, 2022
Taksirat Festival has been shortlisted in the 10 best festivals in Europe!
TAKSIRAT Festival has been shortlisted in the top 10 festivals in Europe in the category for Best Indoor Festival at the European Festival Awards, one of the most esteemed acknowledgment in the world of music festivals!
The open voting for the 12th edition of the EFA (European Festival Awards) ended with extraordinary support from the world audience, with more than 40,000 votes from the public and the vote of the professional jury of music experts. Among the chosen finalists from the main categories, our Taksirat Festival is also in the top ten between a strong competition from an incredible 350 festivals from 35 countries across Europe!
It is the most prestigious award for the music industry of the old continent with which Taksirat, the only one from Macedonia, has the honor of being recognized again and again for its quality with numerous nominations in the past years, and now at the very top as a finalist in its category.
The winners of each category will be revealed next year at the European Festival Awards ceremony on January 18 in Groningen, the Netherlands.
TAKSIRAT was first given this recognition in 2016. This time round, such a recognition arrives just in time as another reason to celebrate and start preparations for the next, 25th anniversary edition, and right after the year's most visited edition, which ended recently with the main night on December 7.
Namely, this year more than 27000 visitors were part of the impressive program with more than 50 concerts including Dead Can Dance, Manu Chao, Andre Rieu, Ben Klock, IAMDDB, Hladno Pivo, Buc Kesidi, Sodom, La Pegatina and many others within the framework of the Taksirat's off-programme, Main Night, PIN and Luzer Fest at TAKSIRAT 2022.
The European Festival Awards, since its formation in 2009, has been dedicated to its goal of recognizing and celebrating the collective successes of festival organizations in the music industry of the old continent. Across 16 categories, the awards give the most significant international recognition to music festivals and their outstanding individuals, both for quality and for pushing boundaries in terms of professionalism and commitment to safety, social awareness, environmental sustainability and innovation in organizing music festivals.