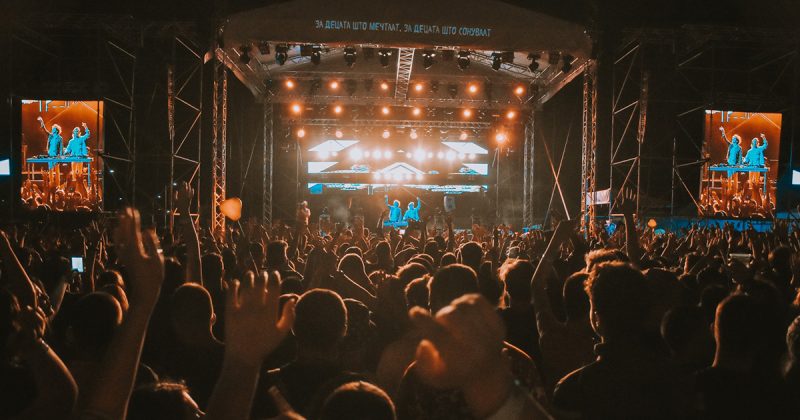 Established in 2011 and raised by the idea of having a unique open-air music event that will offer an alternative for satisfying the need for a summer festival at the authentic and outstanding Dojran coast – "D FESTIVAL" has already confirmed and justified its initiative in the best way. It is a young festival that is always held in a perfect atmosphere that constantly leads to euphoria and represents a unique evening drive on positive energy, contributed by the thousands of fans and the finest artists of the local, regional, and world music scene.
D Festival continues as a tradition but with even greater expectations each year, certainly achieving the goal to become a symbol of an unforgettable concert experience and a traditional destination for the fans of the authentic summer festival spirit.
Each year D Festival is the party destination for more than 8.000 visitors who have enjoyed this festival with the remarkable concert performances of the music artists like Stereo MC's, Sonique, Djaikovski, Dubioza Kolektiv, Bernays Propaganda, String Forces, Superhiks, AREA, S.A.R.S., Baildsa, Zijan and many more. Everybody is eager for the upcoming edition of the festival. The date of the festival (end of July) is also a season that every year attracts more and more international and local tourists and many young people who believe in the potential of Dojran as an attractive location.
Spreading the good word for the great excitement from every festival edition, more and more people decide to spend their yearly vacation and their best summer festival event right here in Dojran. And each summer D FESTIVAL continues to grow offering a wider variety of attractive performances, a music program that lasts for days, and also a festival camp for the visitors, located by the coast of the beautiful Dojran Lake.
Top artist that visited this festival:
Manu Chao La Ventura, Paul Van Dyk, Roger Sanchez, Dubioza Kolektiv, Stereo MC's, Roni Size, Napalm Death, Noisia, Disciples, Fink, Mahmut Orhan, Sonique, Goldie, Toy Dolls, Marky Ramone, Pussy Riot, Dub Pistols, Sigma, Ofenbach, Tom Novy, Terakaft, Ali Farka Toure Band, Koop Oscar Orchestra, Sinister, Sevdaliza, Egorythmia, Vlatko Stefanovski, Goran Trajkoski, Kiril Dzajkovski, Elektricni Orgazam, Obojeni Program, S.A.R.S., Hladno Pivo, Ljubojna, Bad Copy, Brkovi, Bernays Propaganda, Arhangel, Lollobrigida, Duke Bojdziev, Superhiks, Repetitor, Smoke Mardeljano, Amaritzi, Smut, Porto Morto, Sethstat, String Forces, Area, 21 Vek, PMG Kolektiv, Chista Okolina, Conquering Lion, Diskobajagi, Foltin, Parketi, Da Dzaka Nakot, Strajk,Brkovi, Chalgia Soundsystem, Fink, Who See, My Baby, Millko, Nikofor, Frenkie, K.U.R., Helem Nejse, Koala Voice, Zijan, Disease, Funk Shui, RIB, Palindrom, Trendkill, Conspiracy, KI, SEA + AIR, Druggy, Posleden Udar, RGB, Project Rakia, Meszechinka, Cut Your Nipple, Anna O, Man In A Suit, Reduced To Ashes, LD Pistolero, Pluto's Doubts, Lepi Xhoni, Saygon, Funky Fresh, Hipnotized, Samostalni Referenti, DJ Goce, DJ Chvare, The Red Step,Project Orpheus, Sonic Species, Djantrix, Modual, Tengri, Trap Da Fuck Up, Bojan Petkov, Jordan Kostov, Fonija, Kiklop & The Banshee, Saso Mitrevski, Sweet Rapscalions, Mirko Popov, Samoil Radinski, The Black and Vice Social Club, Contact 59, Monoglitch, Shell Shock, The Planktons, Albiorix, Kepurdhat, Dual Resonance Spirit Architect, Modual, Dejan Dex, Deni Trajkov, Aleksandar Veliki, Firma, Pepermint, The Government, The Local Blue, Divizija, Spectrum, Kain, Bass Infusion, Gloomie, Inomatik, Irie Scratch, Aleksandar Peshevski, Emilija Slavkovska, Marko Greyhound, Metanoia, Leitmotif, Kletoto Trojstvo, Elena Hristova, Goce Stefkovski Trio, Voltaire Mani Al Hakim, Igla I Konec, Big Bud, Darko Stepic, Hypertech, D. Lite, Hans SCH, Ogie, Puk'kah, Tecktone, MKDSL, Andreas HZ, LTX, Maggie, Martchin, Klara, Mitrik, Samardziski, Ilina Angel, Violeta Kachakova, Aleksandar Gavrovski, Marso, Shurbe, DJ Charlie…